Not only can mead be served with some top dishes, but it can also elevate the whole meal and give it a fun twist. This tuna tartare & sashimi on the bed of honey mango, avocado, and tomato is as fun as it gets! The ginger chips give this appetizer the edginess it needs. I mean, look at these colors!
Ingredients:
240g tuna fish steak
1/2 Avocado
1/2 Tomato
1/2 Honey mango
10 cl Pure Semi-sweet floral honey wine. We used the one from Meadery Jere.
1 shallot
sesame oil, salt, lemon, sesame, coriander
Beverage and decoration:
Ginger
coriander
Semi-sweet mead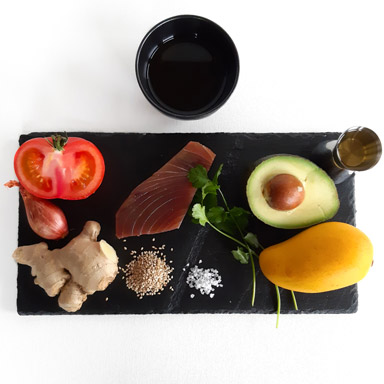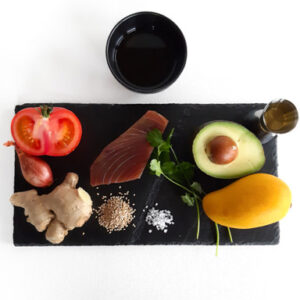 Step by step process:
Step 1:
Remove the skin from the ginger and try to get thin ginger slices using a peeler. Put the slices on a baking sheet and bake at 130°C for 10 minutes. When the time is up, take them out of the oven as they will crisp up when they cool off. Great, you have made yourself crispy ginger chips, which you can use for decoration (and a healthy snack).
Step 2:
Pour 10 cl of honey wine into a smaller pot and let it cook until it is reduced by half. You will use this mead reduction as the marinade for the tomato, avocado, and honey mango mix. Simply chop these fruits into 0,5 cm cubes. Pour in the marinade, stir gently, and set aside.
Step 3:
Make sure to cut four 1 cm thick (triangle-shaped) sashimi slices from the 120g of tuna. You can finely chop the rest (120g) of tuna and make a lovely tuna tartare out of it. For the tartare, you will also need to finely chop a shallot and some coriander. Mix the tuna, shallot, coriander, and add a pinch of salt and a tablespoon of sesame.
Step 4:
Plate the tartare using a round form. Distribute the colorful, marinated avocado, mango, and tomato mix nicely. Heat up a pan with a bit of sesame oil. Roll the sides of each sashimi in sesame and then fry each side in oil for about 5 seconds. You want your sesame to turn golden and the tuna to stay raw. Sprinkle some sea salt over the sashimi. Garnish with ginger chips, coriander, and drops of honey wine reduction.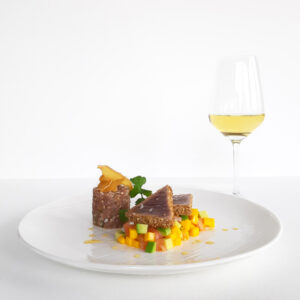 This recipe is fresh, fun, colorful, and easy to make. It shows that with fresh and whole ingredients, less is more. This appetizer is best served right away, with a semi-dry to semi-sweet floral mead. This dish looks like something from a fine dining restaurant, but it can be easily made at home, with very few ingredients.
Looking for more Asian-inspired recipes that work well with mead? Soy sauce and honey pork belly is one of the most epic ones!
We are very passionate about fine dining and mead. You too? Then subscribe to our newsletter and share this recipe with your friends! Thank you for your support.