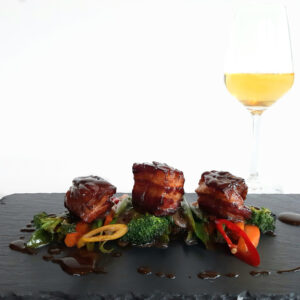 Are you looking for food that goes well with mead? Well, this Asian-style dish may not be the most typical way to go, but it is for sure one of the most epic ones!
Our honey & soy sauce pork belly paired with mead gives new meaning to the phrase "explosion of taste"! Here is what you need to recreate this dish:
Ingredients for 2 people
600g of pork belly
2dl of soy sauce
3 tablespoons of forest honey
2 carrots
A handful of green beans
A handful of broccoli tops
1 chili
2 shallots, 1 garlic clove, 4 green onions
fresh coriander aka. cilantro
salt & pepper
1 tablespoon of cornstarch
0,3 l vegetable oil
2 x 2dl semi-sweet mead. We used the one from Meadery Jere
The preparation process is wholesome and zero-waste. You will learn how to maximize the flavors in this dish by simply following the instructions below.
The Step by step process
Step 1: Cut the pork into 4 cm chunks. Put them into boiling water for one minute. This process softens the skin, so you can easily make cuts into it. This way, the marinade can come deeper into the flesh, which will make the meat taste better.
Step 2: Pour the soy sauce and honey into a bowl. Add two chopped green onions, a shallot, half of the chili and crushed garlic. Season with a pinch of salt and pepper and 5 (or as many you prefer) branches of fresh cilantro. Finally, add the pork and marinate it for at least two hours.
Step 3: Peel and chop the veggies and the leftover challot & two green onions. Instead of throwing the peels away, place them into a large pot. Add just enough water to cover everything and bring it to a boil. The steam coming from this vegetable stock will slowly cook the marinated pork, which should be placed on top of it. It is best to use a steaming rack/a steel strainer. Steam for 60 minutes or until the pork is completely tender.
Step 4: Pour the marinade over a fine strainer and heat it up on the stove. Dissolve the tablespoon of cornstarch in 2 tablespoons of cold water. Add it to the marinade, mix and slowly bring to a boil. Yey, we just made our sauce!
Step 5: For this step, we need a pot with hot vegetable oil. First, dump the meat into the sauce and then fry it. We want the water in the porks skin to burst, so it becomes crispy. Therefore, make sure to keep a safe distance. After a minute or two, remove the meat from the oil and pour the sauce over it. In the meantime, fry the veggies in a wok. When tender, add some sauce.
Which mead should you serve it with?
It is best to serve with a glass of chilled semi-sweet mead. We served it with the one from Meadery Jere. The reason why this semi-sweet mead is such a good fit is quite obvious. Sweeter wines pair well with "fatty" meats and slightly spicy food. Moreover, honey is an underlying theme of this dish … from the marinade to the beverage.
Craving dessert?
Do you have some mead left? Well, we don't have a recipe for an Asian-style dessert just yet, but you can check out this Mead-infused vanilla and banana ice cream!
Are you passionate about mead and food?
Honey wine & food pairing is the topic we are incredibly passionate about. You too? Then subscribe to our newsletter and share this recipe with your friends! Thank you for your support.