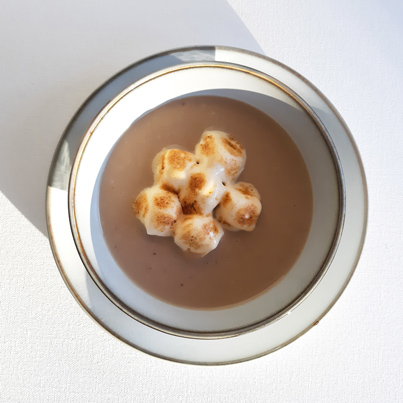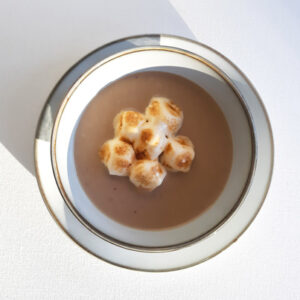 This chestnut soup is not just creamy and delicious but also bold, edgy, and memorable. It is spiced with chestnut mead and topped with homemade salted caramel marshmallows! When the marshmallows start melting, they become part of this sweet, silky soup. Let's see what you will need to get started!
Ingredients:
Soup (2 portions)
200g cooked and peeled sweet chestnut
1 shallot
1/2 of an apple
2 x 2cm of fresh ginger
6cl of chestnut honey wine by Honigweine Jere
500ml of water
10cl of cooking cream
butter, oil, salt, pepper
Salted caramel marshmallows
175g white sugar
18g of gelatine
90g of water
1 tablespoon of starch, plus some extra starch for the baking tray
2 pinches of salt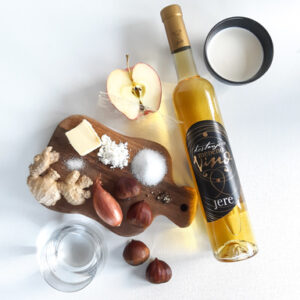 Step by step proceses:
Step 1:
If you bought cooked and pre-packaged chestnut, you can skip this step, otherwise, cook the chestnut until soft (approx. 40min). Making marshmallows at home is so much fun and that's exactly what we are doing next!
Melt the sugar in a saucepan and let it cool when it reaches the golden brown, caramelized state. After the caramel has hardened, grind 150g of it into powder using a hand herb masher or a spice grinder. Add two pinches of salt to the powder.
Step 2:
Heat up the water and add the salted caramel powder and starch. Mix until the sugar powder is completely dissolved (approx 3 minutes) and then add the soaked gelatine to it. Continue stirring until the gelatine is completely melted. Transfer this hot mixture to a stand mixer and mix on high speed for approx. 3 minutes or until the mixture starts to form hard peaks. In the meantime, prepare a high baking tray by greasing it with oil and then sprinkling starch on top so it does not stick. When you are finished mixing, transfer this firm and still warm marshmallow mixture to the baking tray right away, otherwise, it will start to harden in the mixer. Refrigerate for at least 30 minutes. Congrats, you just made your own, salted caramel marshmallows!
Step 3:
For the soup, peel and chop the shallot, apple, cooked chestnut, and ginger. Melt some butter in the pot and put all these chopped ingredients inside to saute and caramelize. After 3-5 minutes, add 3 cl of the chestnut mead and let continue sauteing for another 2 minutes to reduce the wine. Afterward add water, a pinch of salt, and pepper, then let it simmer for 30 minutes.
Step 4:
After this 30 minutes, pour the soup into the mixer and mix until smooth. Set this creamy soup on the stove once again, add the cooking cream and the rest 3 cl of mead. Cook for two more minutes and then serve it in nice soup bowls. Take the tray of marshmallows out of the fridge and cut six 1 cm big cubes out of it. Place on the soup, roast/caramelize marshmallows with a gaslighter. You want them to melt a bit and get this beautiful golden color. Serve right away!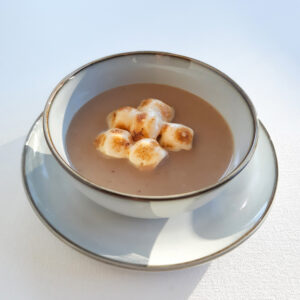 If you love cream soups, trying this chestnut soup is a must:) When caramelized marshmallows melt into this creamy soup, they give it that extra silkiness and sweetness which make the soup incredibly delicious. The sauteed apple, ginger, and chestnut mead definitely make for a full and memorable taste!
If you are not a fan of soups, you can check out other fun appetizers, such as this vibrant tuna mead pairing!
We are very passionate about food and mead. You too? Then subscribe to our newsletter and share this recipe with your friends! Thank you for your support.