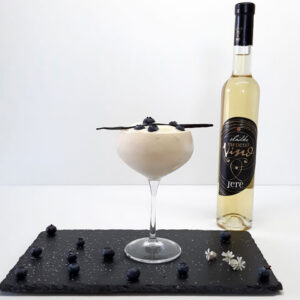 This boozy ice cream is a grown-up version of your beloved summer treat. It has the potential to become your favorite mead dessert of all time. Before you realize it, you will want to eat it all year round!
It has a silky texture and an exceptionally rich flavor. Every spoon is filled with the taste of vanilla, bananas, and floral sweet mead.
Ingredients/portion:
1 frozen banana (make sure to freeze very ripe and sweet bananas)
1 scoop of bourbon vanilla ice cream
7 cl of sweet mead made of flower honey. We used one from Honigweine Jere
2 ice cubes
Are you already excited about your dream mead dessert? Here is what you should do next:
Preparation
The preparation could not be any easier. Simply put everything into a high- speed blender that is able to blend ice and frozen fruits. Mix until the texture is smooth and silky. After giving it a taste-test, you are now only one step away from a sweet and pleasantly cool treat.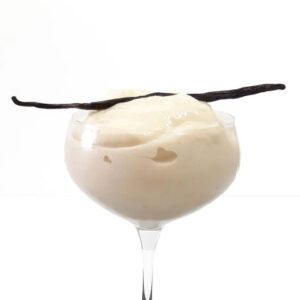 Presentation
You can bring some contrast to the dessert by decorating it with fresh blueberries and vanilla. Make sure to enjoy every spoon, let it be alone, in a pair, or with friends and family.
Do you prefer drinking sweet mead as it is? These mini gourmet bites are delicious with every dessert wine. Make sure to try them out when the season comes.
We are very passionate about desserts made with mead. You too? Then subscribe to our newsletter and share this recipe with your friends! Thank you for your support.