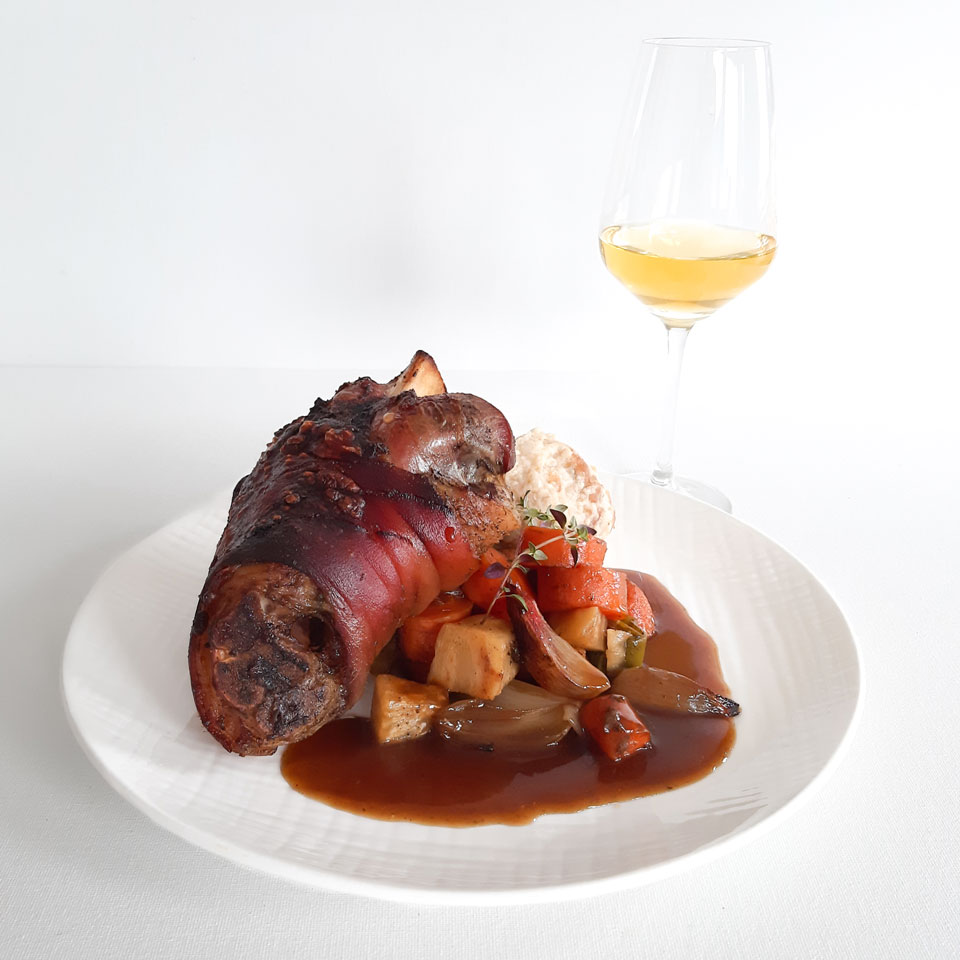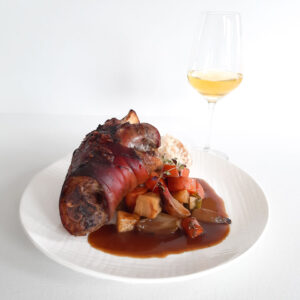 We are making our version of an iconic Bavarian dish: pork knuckle served with dumplings. It's usually drank with beer, but the slight sweetness in mead pairs just as well to rather fatty cuts of meat. Hungry? Here's what you'll need:
Ingredients for 2 people:
2 pork knuckles
2 dl of dark beer
root vegetables (3 carrots, 1/4 of celery root, 1 parsley root, 4 shallots)
Spices: Fresh Rosemary & thyme, salt, pepper, a tablespoon of caraway seeds, oil
A tablespoon of forest honey
5 g of corn starch (optional)
Pretzel Dumplings:
3 dry pretzels (at least a day old)
2 eggs
375 ml milk
1 shallot
Salt, pepper, 10 g of butter
bread crumbs (approx. 10 g)
The step by step process:
Step 1: Pork and veggies
To start off, preheat your oven to 250°C. Chop the root vegetables and shallots into 2×2 cm cubes. Put the meat and the chopped veggies onto a baking tray. Season them with salt, pepper, a tablespoon of caraway seeds, and a couple of rosemary and thyme branches. Add three tablespoons of oil and massage it into the veggies and meat. When the oven has reached 250°C, put the tray into the oven for 10 minutes. After 10 minutes, lower the temperature to 160°C and roast for 2 hours. While roasting, make sure to mix the veggies every 15 minutes and when you do that, also pour a bit of beer over the knuckles.
Step 2: Prezel's dumpling dough
Roughly chop all three dry pretzels and place them into a bowl. Then finely chop a shallot and roast it on melted butter. When golden, add the milk and let it get warm. Pour the warm milk over the pretzel chunks and combine the dough with your hands. Add salt and pepper to taste and set aside to chill.
Step 3: Cook the dumplings
Bring a pot with salted water to a boil. Add two eggs to the dumpling mixture which should now be cold / at room temperature. You want the dough to be soft and sticky. To check if it's as it must be, try rolling it in a boll with your hands to see if it stays together. We always recommend test-cooking one dumpling to verify that the taste & the texture are perfect. You can always add bread crumbs to make the dough less wet / more compact. Cook the dumplings for 8 minutes in salted, simmering water. If you are not plating them right away, let them rest in the water so they don't dry out!
Step 4: The crispy crust & the tasty sauce
When the pork has been in the oven for 2 hours, raise the temperature to 230°C. If your oven has a grill function, turn it on as the heat will help to create a crispy crust. The crust will start to pop in the next minutes. The crispier, the better, just makes sure it does not burn. It should be crispy after 5-10 minutes … simply put out of the oven and pour the excess juice, that gathered on the bottom of the tray, into a pot. Add honey to taste and thicken with some corn starch if necessary. (Make sure to dilute the corn starch in two tablespoons of cold water before adding it to the sauce. Mix constantly when pouring it into the sauce. When you will bring the sauce to a boil one again, it will start to thicken.
Lecker! (This means delicious in German.) Plate and serve with a glass of dry forest mead!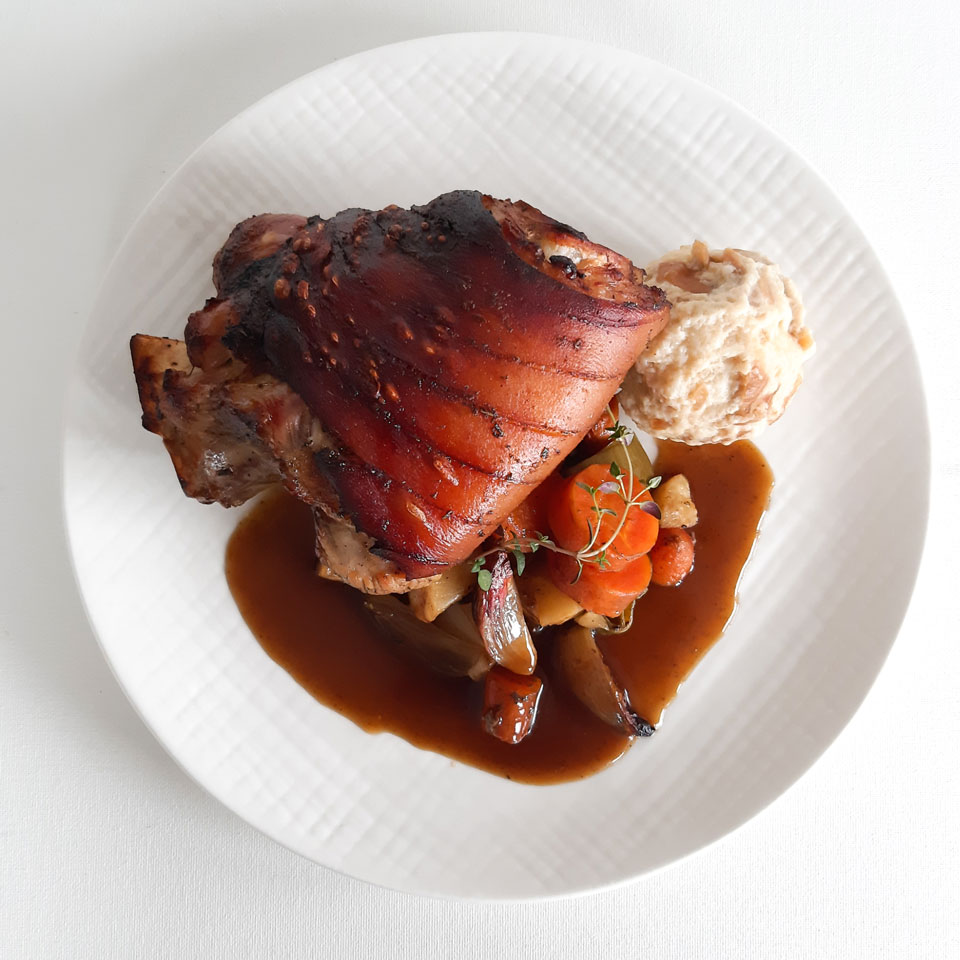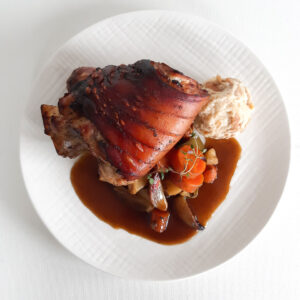 Well well well, you've made a delicious, soft, and crispy pork knuckle with root veggies and a honey sauce. The dry or even semi-sweet forest mead is the perfect companion for this dish! It tastes great in combination with the sweetness of the veggies, the sauce, and the fattiness in the meat.
More pork recipes to pair with mead?
Are you looking for an Asian-food inspired recipe? If yes, you need to try this sticky honey-soy sauce pork belly!
Are you passionate about mead and food?
Honey wine & food pairing is the topic we are incredibly passionate about. You too? Then subscribe to our newsletter and share this recipe with your friends! Thank you for your support.