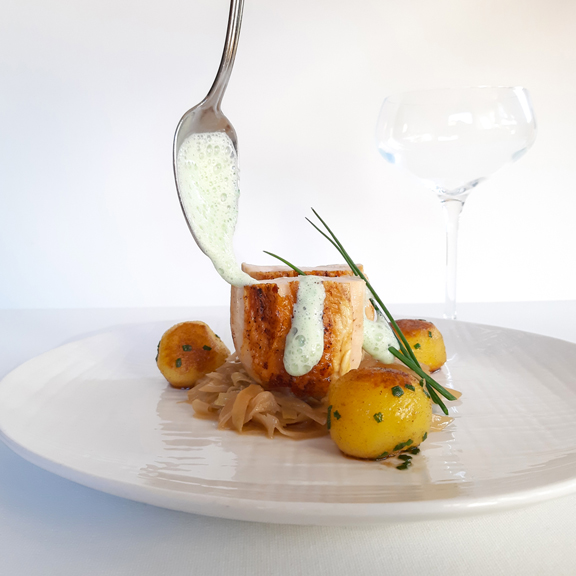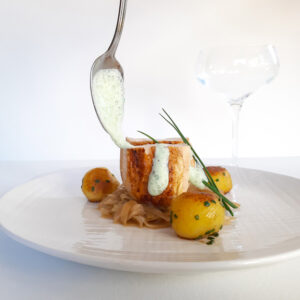 Champagne braised cabbage tastes great but what you are really looking for is a recipe for a sparkling mead braised cabbage. This honey bubbly brings out the delicate, natural sweetness of white cabbage. Here is a 3-step recipe for baked chicken breast on a bed of sparkling mead cabbage with baked potatoes.
Ingredients for 2 portions:
1 whole chicken breast (corn-fed chicken for better taste & color)
1/2 of a medium-sized white cabbage
6 small potatoes
2dl of semi-sweet sparkling mead from Meadery Jere
1/2 medium-sized white onion
1 dried laurel leaf
20g butter
1 dl vegetable stock
Fresh chives
2dl of light cooking cream – optional
salt, pepper, vegetable oil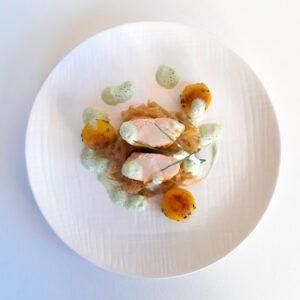 The tree step process:
Step 1:
Cut cabbage and onion into thin strips. Melt butter in a pan and sauté the onion for 5 minutes. Add cabbage stripes, laurel, a touch of salt and pepper, and saute for another 5 min. Pour sparkling mead into the pan and cook for 3 minutes on medium heat. Reduce to low heat and let it stew for 90 minutes or until soft. Regularly stir and gradually add veggie fond if there is not enough liquid to prevent the cabbage from sticking to the bottom of the pan.
Step 2:
Peel the potatoes and cook them until soft in salted boiling water. Season the chicken breast with salt and pepper. Prepare a pan with oil and make sure it's very hot before you place the chicken breast into it. Roast for 2 minutes on each side to get a nice, golden, crispy skin which will keep the meat from drying out. Place it into a preheated oven (180°C) for 15 minutes.
Step 3:
Just before serving, roast the potatoes in butter and fresh chives. If you'd like to decorate the plate some more, boil cooking cream with a handful of fresh chives. Blend it in a way that allows air to come into the liquid to create foam. Plate with lots of love and serve it with a glass of semi-sweet sparkling mead.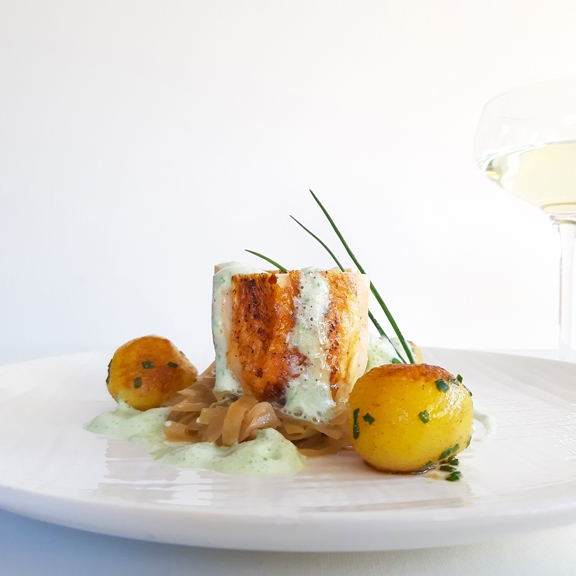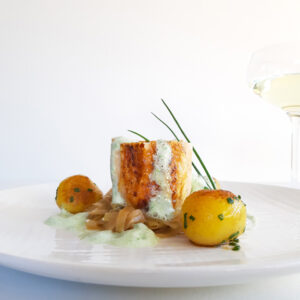 If you love simple, cozy winter recipes, give this one a try! You will love the contrast between the crispy chicken and the soft, sweet cabbage.
Want more of sparkling mead food pairing?
What about these scallops on a fennel risotto with homemade orange mayo? The recipe is just as easy and delicious!
We are very passionate about sparkling mead. You too? Then subscribe to our newsletter and share this recipe with your friends! Thank you for your support.