This spicey-sweet-sour curry is as delicious as it looks! Let us guide you through all the secrets to making this exotic delicacy. We served it with rice and dry honey wine.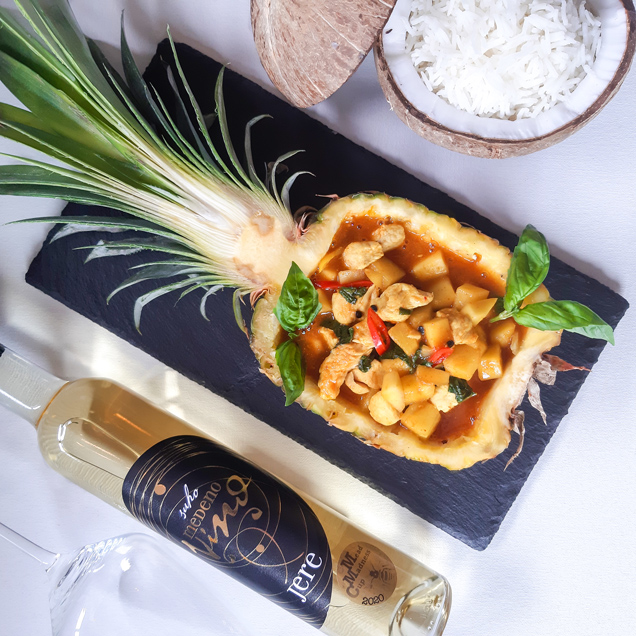 Ingredients for two portions:
2 chicken breasts
300ml of coconut water
1 passion fruit
1 ripe mango
2 slices of pineapple (it is high in acidity, that is why we use just about 50g)
1 cup of white rice
20g curry paste
1 red & 1 yellow chilli
A handful of fresh basil
sesame oil, curry, salt, pepper, soy sauce, corn starch
Dry mead Jere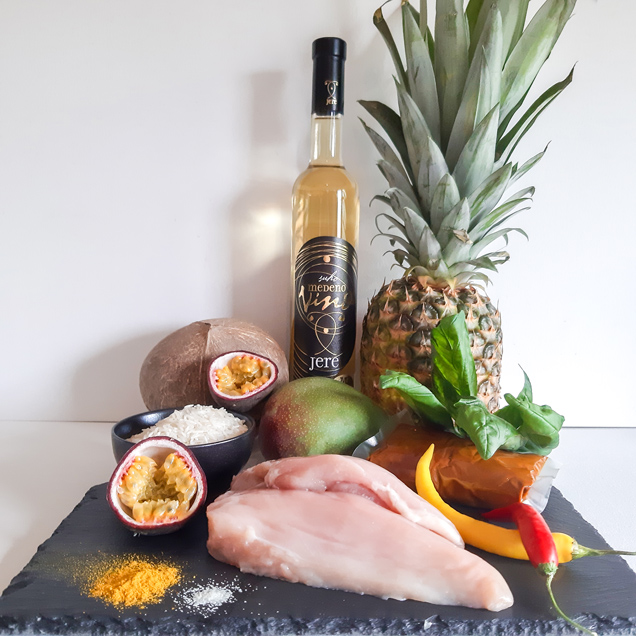 A step by step process
Step 1
In a high medium-sized pot, heat up a spoon of sesame oil with curry paste. Add a teaspoon of curry spice, two tablespoons of soy sauce, and a pinch of salt&pepper to it. Dissolve in coconut water and add one passion fruit. Cook for five minutes, then dissolve a teaspoon of starch in a spoon of cold water and pour it in while constantly stirring. Let it boil and thicken up.
Step 2
Cook the rice by following the instructions on the packaging. Chop a whole mango, pineapple slices, and chicken breasts in 1 cm large cubes. Moreover, finely chop one half of red and yellow chili. You will also need to roughly cut a handful of fresh basil.
Step 3
In a pan, start roasting the chicken. Spice it with a bit of salt, pepper, and curry. When the chicken cubes are halfway roasted, and the mango and pineapple cubes. Roast everything together for 2 minutes then add into the curry sauce. Let everything cook for another 5 minutes. Right before serving, add fresh basil and stir gently. This way, it will keep its fresh and bright green color.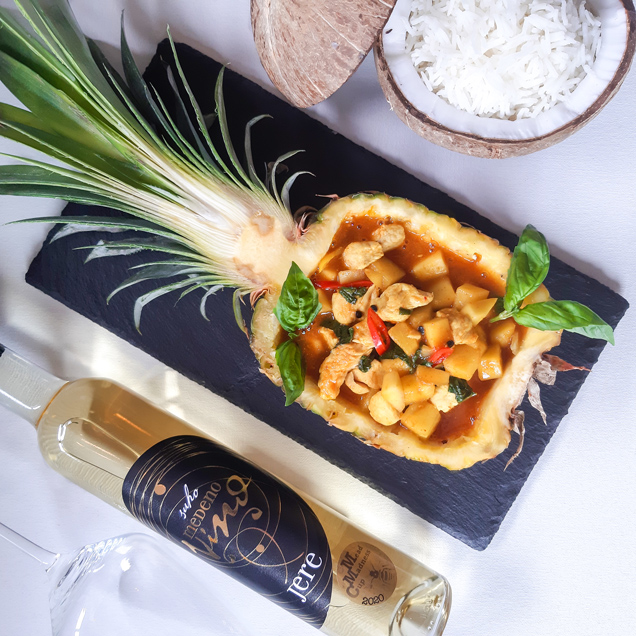 We went all-in with the presentation of this dish. The curry is served inside of pineapple & the rice is placed in a coconut shell. The dish is the definition of "explosion of taste". It is spicy and fresh! We recommend serving it with a glass of chilled dry Mead, which always pairs well with spicey and slightly sweet foods.
We are very passionate about tropical mead cocktails. You too? Then subscribe to our newsletter and share this recipe with your friends! Thank you for your support.