Fried sweet potato patties filled with cheese and served with mead. Sounds delicious, doesn´t it?
These sweet potato patties are crispy on the outside and incredibly soft and flavourful on the inside. Serve them with a dip & a glass of mead and voilà, dinner is served! Here is what you will need: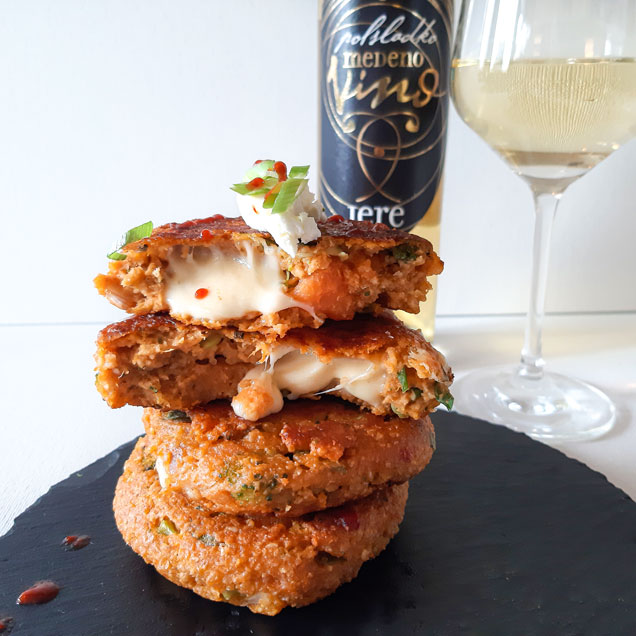 Ingredients for 10-12 large patties
2 cups of sweet potato puree
1.3 cups of oat flour (can be made at home by bleding oats)
1/2 cup of broccoli
one half of a red onion
2 spring onions
2 eggs
a 100g block of gouda cheese
smoked paprika, salt, pepper
Optional toppings: soft cheese, Sriracha & spring onion
Best served with a glass of chilled semi-sweet mead Jere!
One, two, three … your sweet potato patties are ready! Now all you need is a glass of semi-sweet mead:)
Roast two large sweet potatoes in the oven at 180°C until soft. (ca. 45min). Let them cool off and and then scrape the sweet potato puree into a large bowl.
Finely chop one half of red onion and broccoli, steam both until soft (5min). Chop the spring onions and cut ten 1cm cubes of gouda cheese. If you cannot find oat flour at your store, we suggest buying rolled oats and blending them into fine flour in your blender.
Add the potatos, oat flour, onion, broccoli, spring onions, eggs, and spices to a large bowl and combine with your hands or a hand mixer. The mixture should feel moist while at the same time keeping its form.
Wet your hands, then take a handful of the mixture, press a cheese cube into the middle and form patties.
Place the patties onto a tray while heating up frying oil.
Fry 5 min on each side, or until golden and crispy.
Top with soft cheese, Sriracha and serve with semi sweet mead Jere.
Open the bottle of mead and make yourself a cozy evening!