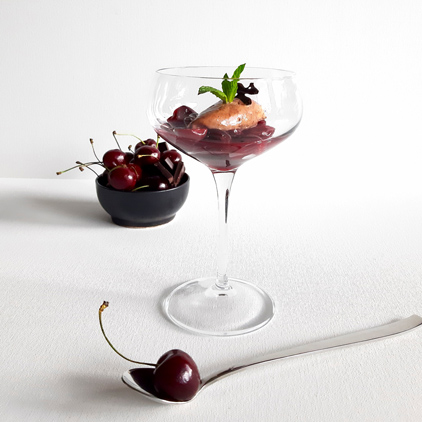 If you are reading this, you are likely a mead and chocolate lover. The famous Mousse au Chocolat is one of the most beloved chocolate desserts of all time. However, what's underneath the mousse makes this dessert truly well-balanced and beyond delicious …
So what is this dessert all about?
We are preparing a chocolate mousse on a bed of cherries cooked in mead. When cooking cherries in honey wine, the wine will turn into a thick, naturally-sweet cherry sauce. On top, there will be a scoop of a bitter-sweet mousse, which is light and full of air bubbles.
Ingredients for 4 portions:
Honey wine cherries :
Chocolate mousse:
200g of 70% cacao dark chocolate/coating chocolate
1 egg (60g)
2 egg yolks (40g)
40g of sugar
400g of whipping cream
2 gelatine sheets
Let's get right into it!
Step 1: Start off by breaking the chocolate into smaller pieces and melting it in a water bath (50°C).
Step 2: Beat the egg, egg yolks and sugar over a water bath (80°C) until they gain volume and turn frothy. Soak the gelatine in cold water. Fold the liquid chocolate into the egg mixture. Gently wring out the gelatine to get rid of excess water, melt it in a pot, and add it to the mixture while constantly stirring. Place it into the fridge for 5 minutes.
Step 3: While the egg mixture is cooling off, whisk the whipping cream until firm peaks form. Take the egg/chocolate fusion out to the fridge and add the cream by gently folding it into the mixture. Do not overmix. Leave in the fridge until firm (min. 3 hours, best overnight).
Step 4: Wash the cherries, slice them in half, and remove the stones. Place them in a small pot and pour in the mead as well. Cook on low heat for 10 minutes. In the end, the cherries will be soft and covered with a thick, naturally sweet cherry-mead sauce. Refrigerate.
Important:
Before plating, make sure you've already invited someone to try this with you. If not, there may be a risk of you eating it all by yourself!
As stated in the title: "If you love cherries, mead, and chocolate, you will be making this dessert over and over". The bitterness in the chocolate and the acidity of cherries balance out the sweetness incredibly well. It's light, yet satisfying.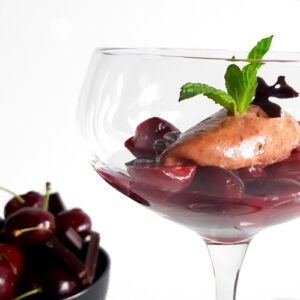 Would you like to make a mousse with marzipan instead of chocolate?
Here is another great mousse recipe for a Marzipan mille-feuille. You know how to make mousse already, so this should be very easy for you!
We are very passionate about mead, chocolate and desserts in general. You too? Then subscribe to our newsletter and share this recipe with your friends! Thank you for your support.