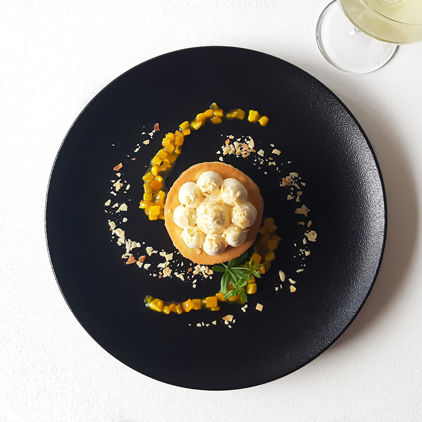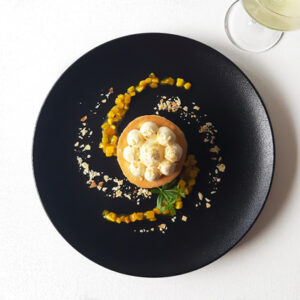 "You can hear how each layer gently breaks under your fork when you go in for the first bite."
This Sparkling Mead dessert is made to impress. It looks breathtaking and the combination of marzipan and sparkling mead tastes phenomenal. All that being said …. it is not hard to make at all! Let us guide you through the process.
Ingredients for 4 portions:
Marzipan mousse:
100g marzipan raw mass
75ml water
75g granulated sugar
1 egg
2 egg yolks
400g whipping cream
1 tablespoon of flower honey
3 gelatine sheets
Thin pastry (you need a non-stick silicone baking mat):
100g granulated sugar
100g egg whites
75g standard wheat flour, type 405
75g butter
Decoration & Beverage
candied orange peel cubes
2cl of orange juice or sweet mead (we used the traditional one from Lymebay winery).
almond slices
sweet-scented bedstraw
A glass of semi-sweet sparkling mead made with the traditional method. We served the one by Meadery Jere.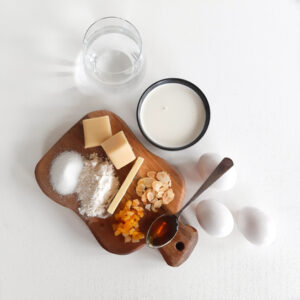 The step by step process:
Step 1: Let us make the thin pastry first. Start off by whisking the egg whites while gradually adding sugar to them. When they turn fluffy and stiff picks start to build, stir in the flour. Lastly, melt the butter over low heat and incorporate it into the mixture. The dough should have a sticky consistency.
Step 2: You will need a non-stick silicone baking mat and a 1-millimeter thin circular mold. You can easily cut the mold out of a plastic container. (hurray for recycling;). Put the silicone mat on a baking tray and spread the dough over the mold with a spatula. Doing circular movements with the back of a spoon will bring you similar results. You should strive for a diameter of 7cm & thickness of a millimeter.
Step 3: Bake in a preheated oven at 200°C for 3 minutes. Take them out when they reach a light brown color. Place them on a flat surface after removing them from the mat with a butter knife. They will become firm and crispy in seconds. Set aside.
Step 4: Add water, sugar, and small chunks of marzipan to a small pot. Heat it and mix until the marzipan has melted into a rather liquid marzipan paste.
Step 5: Beat the egg end egg yolks over a water bath until they gain volume and turn frothy. Soak the gelatine in cold water. Fold the liquid marzipan paste into the egg mixture. Gently wring out the gelatine to get rid of excess water, melt it in a pot, and add it to the mixture while constantly stirring. Place it into the fridge for 5 minutes.
Step 6: In the meantime, whisk the whipping cream with a tablespoon of honey until firm peaks form. Take the egg/marzipan fusion out to the fridge and add the cream by gently folding it into the mixture. Do not overmix. Leave in the fridge until firm (min. 3 hours).
Step 7: Mille-feuille means "a thousand layers" but we think three is just the right amount for this dessert. Plate as shown in the photo. Make sure to plate the dessert in a cool room, so that the mousse does not start to sink. Sprinkle with crushed almond slices, some candied orange peels cooked in honey wine and decorate with sweet-scented bedstraw. Serve immediately … with a glass of Sparling Mead of course.
The inspiration behind the plating of this marzipan mille-feuille was a galaxy. Talking about the taste, this sweet treat is a universe of its own. You might be thinking: "I already knew that marzipan and honey go well together, this is nothing new". This may be true, however, the innovation lies somewhere else. Marzipan desserts usually end up being very heavy and filling. This fluffy mousse combined with a bubbly that carries a honey flavor makes the dessert very light.
Want more creamy desserts?
We will be making more marzipan-based dessert, but until then, this mead chocolate mousse dessert with cherries is a must try!
We are very passionate about sparkling mead desserts. You too? Then subscribe to our newsletter and share this recipe with your friends! Thank you for your support.